Hawaii History
| | |
| --- | --- |
| | The Big Island is one of the remote spots on earth. Located near the center of the Pacific Ocean, and just below the Tropic of Cancer, the Big Island is the youngest, yet largest of the eight Hawaiian Islands. The official color of Hawaii is red, and those great smelling fresh leis that everyone wears around the island are made from the Big Islands official flower, Lehua. The Big Island is known for many things, but the active Volcanoes are what really drive |
the people to the island. People from far and near arrive at Hawaii to walk, see, and experience first hand how Mother Nature works. Five active volcanoes formed the Big Island. Two of which are still active till this day, the Mauna Loa and Kilauea.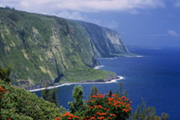 Pineapples and tourism are the Big Islands main source of income in addition to sugar. Fresh fruit can be found almost anywhere, and on a hot Hawaiian day a cold delicious mouthwatering treat for your taste buds is sure to make your day feel cooler. Numerous historical and cultural sites circle the island. The Kona-Kohala Coast is a historic landmark worth mentioning since history evolved here. The Coast is home to various history making individuals. Some important people worth mentioning are King Kamehameha, a great individual who joint the Hawaiian Islands under a single ruling, and Ellison Onizuka, the Big Islands first astronaut.
Food always gathers people together, and on the Big Island food is a very significant aspect of the islands history and culture. Native Hawaiian foods are Poi, Kalua pig, Ahi Poke, Manapua, and Lau Lau. Taro, a product to make Poi, was brought to Hawaii in 450 A.D. by the Polynesians in sailing canoes. Taro is one of the oldest cultivated crops, and were usually planted and pounded only by men. Poi is considered a sacred food to the culture of the Hawaiian Islands and should be tried when visiting the Big Island. Even though an acquired taste might have to prevail, since most people don't like Poi, it is a big part of the Big Islands history, and is worth mentioning. The sacredness of Poi is reflected in Hawaiian mythology, where taro is believed to have the greatest life force of all the native foods. Just think, when your tasting Poi you taste all the history that came with this crop.
The Big Island is home to all types of people. Even Gods and Kings once lived on the Big Island. One historic and sacred sight on the Big Island is Waipi`o Valley. This famous landmark is a dwelling place for many important temples. Ancient burial caves reside at the valley where Kings were put to rest. Legend has it that people who reside at the valley will have no harm come to them, because the divine power of the Kings will keep them safe. The florescent green valley's of Waipi'o is surly a mystical place to visit.
The Big Island is rich in history, food, and culture. What's not to love here? Each historical landmark has a special and unique story to tell, and is awaiting your presence to reveal it's tale.